El popular juego de cartas Magic: The Gathering (MTG) reveló las cartas de su colaboración con Fortnite. El singular crossover fue anunciado en 2021 al mismo tiempo que la colección especial de Street Fighter.
El "drop" (paquete de cartas que "cae" o es liberado a su venta) de Secret Lair dedicado al Battle Royale saldrá a la venta el próximo 21 de julio en dos ediciones.
"Secret Lair x Fortnite" incluye siete cartas más una carta secreta adicional, con arte y nombres nuevos. "Secret Lair x Fortnite: Landmarks and Locations" contempla cinco cartas de tierras (unidades básicas del juego) con ilustraciones del juego de Epic Games y una secreta.
Wizards of the Coast y Epic Games enviaron cajas de estas colecciones a creadores de contenido especializados, gracias a esto conocemos el nombre y apariencia de las primeras siete cartas.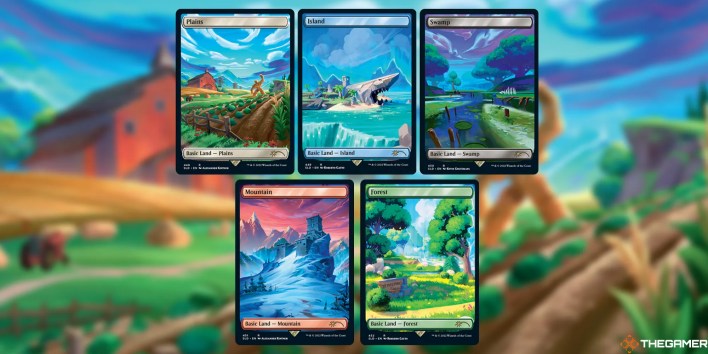 Autobús de batalla (Cóptero de contrabandista)
Battle Royale (Triunfo de las Hordas)
Rompe la Bóveda (Tutor Sombrío)
Batalla de baile (Danza de muchos)
Tormenta menguante (Ira de Dios)
Llama de suministro (escultor de Etherium)
El Cubo (Puente Planar)
Secret Lair x Fortnite: Landmarks and Locations
El "Secret Lair" de Fortnite
Secret Lair es un sello de MTG que publica versiones alternas de cartas que pueden encontrarse en expansiones regulares del juego, con la característica de contar con arte y textos especial, en ocasiones con personajes, lugares y elementos de propiedades intelectuales populares.
Anteriormente, Secret Lair de Magic ha publicado cartas de Stranger Things, Transformers, My Little Pony: Friendship is Magic, Arcane, Bob Ross y el antes mencionado Street Fighter.
Las tarjetas de este crossover saldrán a la venta a partir del 21 de julio. Habrá dos tipos diferentes de objetos, Secret Lair x Fortnite con ocho cartas en total y Secret Lair x Fortnite: Landmarks and Locations, con seis.
¿Qué opinas de este crossover de Fortnite con Magic: The Gathering? Cuéntanos y únete a nuestra comunidad para estar siempre al tanto de las noticias más relevantes de videojuegos, esports y nuestros próximos torneos.